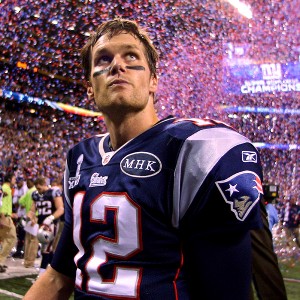 Earlier this month in his post-apocolyptic Super Bowl reflection, Patriots fanatic and peoples' champ of sports bloggers Bill Simmons forged a wonderfully simple yet poignant concept: the Sports Tattoo.
In recounting Tom Brady's last-second heave into the crowded Giant end zone, Simmons described the way the seconds on the clock slowed as the pass spiraled forty yards through the air, the world blanketed in silence just before the ball fell harmlessly to the turf.
For Pats fans, that moment stood still.
Then, as these moments so often do, it exploded.
The bulbs overhead punched on.The mute button on a stadium of thousands released. Brady's signature glare softened as he trudged off the field. Confetti rained from the rafters.
All New England fans could do was stare.
Those fleeting seconds, as Brady's prayer floated toward the end zone, won't live long with most Boston fans, though. For as Simmons explains, as mind-numbing and world-altering as that moment may have seemed, it will soon rest alongside all others of its kind -- unanswered pleas to Sport's higher power.
Instead, what transcend are the rare bytes of history that, in one swing of a bat or tick of a clock, renew our faith as fans. The moments where, inexplicably,
things go right
.
The Catch in San Fransisco. Carlton Fisk waving a home run fair in Game 6. The Immaculate Reception. Plays that, for one unifying moment, held us in rapt attention, hoping and praying that
just this once
we could catch a break.
Those moments, the way they never quite leave you, those are Sports Tattoos.
The historic woes of Boston sports are well-chronicled, so I'm sure most would allow Simmons and his Boston buddies to wallow a bit in opportunities lost and fortunes turned. Yet instead, The Sports Guy points to the miracle moments -- the game-changers, the gifts from above-- as the true beacons, capable of pulling even the most decimated fan out of the rubble.
Because those are what we live for, those of us who live for sports. We spend our days gazing hopefully, often naively, toward the next great moment that can pull us through the rest.
Some, like Simmons and fans of New England sports rest easier, as the canvas of their fanhood has spent the better part of a decade getting fresh ink. Three rings in Foxborough. Two at TD Garden. Two at Fenway. Even in defeat, they can exalt in knowing how it feels to stand at the top of that mountain. Those moments are
their
Sports Tattoos.
Then, there's the rest of us.
We are the restless majority. For us, moments like Sunday's would carve right into the soul.
We're the legion of the deprived, staggering from season to season, pursuing what now has become the unthinkable, the unimaginable, even the undeserved.
Our tattoos are the butterfly tramp-stamps, high school sweetheart initials, barbwire biceps. They're the touchdowns fumbled away, the ninth innings blown, and the last second three's that caught nothing but air.
Every day we're haunted by these ghouls from the past, staring at the mirror in hate and disgust. Every day we search for that one moment to wash them all away.
There are those who win, and then there's us.
Welcome to JOURNEYMEN.
* * *
I can't think of a better way to describe the inspiration for this blog, other than to recount a discussion I had last fall with the right fielder from my softball team, an old-timer from South Philly named Boone.
As we tossed the ball casually to warm up, me in sweats, he in the i've-played-softball-for-forty-years-uniform (skin-tight pin striped baseball pants), our conversation turned, per usual, to professional sports.
It was October, and the Philies had just been bounced from the playoffs two days ago by the Cardinals. Boone had clearly been doing the drunk-hangover-drunk-again tango for the last thirty hours, and was now firmly entrenched in a post-shock depression.
Now, the Phillies have done a lot of winning recently, so as a fan of the third-world Reds, my sympathy level for Philly sports pain usually hovers somewhere between zero and give-me-a-f***ing-break. Still, I indulged him.
The gist of his gripe, of course, was that there's no way a team as stacked as the 2011 Phils should have gotten punked the way they did. With a rotation led by Roy Halladay and Cliff Lee and the cash flow to acquire a star at the trade deadline (Hunter Pence), Philly should have laughed its way to the World Series.
In short, Boone felt cheated, and no amount of Busch Light and Marlboro Reds was gonna' make him feel differently.
Of course I understood Boone's point of view. As a fan of any sport, you spend the months leading up to the season preparing yourself for what level of success (or failure) to expect. Then, as the season progresses, those expectations are either bolstered or altered, depending on how things play out. Either way though, fans cling to those expectations, especially in baseball, and
especially
in the playoffs.
The Cardinals dismantling of the Phillies, a team that was supposed to be unbeatable, shook the very core of the town. And in Boone's eyes, it was actually the build-up to the pain that made it so unbearable. He even went as far as saying he wished they'd never won those 102 games -- because, basically, all they amounted to was one big empty promise.
On one hand, I felt for Boone. It can't feel good to be on the receiving end of that kind of monumental letdown, where you're sitting at the table, napkin tucked into your shirt, expecting a filet, and the chef walks out with bologna. It's sickening.
However, there's a worse kind of pain.
The sad truth is that while the Phillies were watching Skip Shumacker and his gang of yahoos pluck a ring out of midair, there were about 30 teams sitting at home.
Yes, Boone, you got your wrinkled ass handed to you in the playoffs. But at least you got there.
No, Boone, you didn't win the last game you played, but
few do
.
The reality is that if you ask any baseball fan in Pittsburgh, Baltimore, Kansas City, or pretty much anywhere else besides the Bronx, they'd tell you they'd eat their left testicle for four straight Championship series berths.
Sorry Boone, but pain isn't not reaching the Series; it's not even getting close.
* * *
I can't recall how my exchange with Boone ended that day. Chances are, he tossed out a couple expletives, kicked over the half-empty beer nestled in the grass next to his Spalding turf shoes, and wandered off to pee on a tree.
Regardless, our conversation stuck with me, and clued me in to a few concepts that would later serve as founding principles for this blog.
First, losing is relative. The same season that made Boone and his darts team suffer a collective brain hemorrhage would probably have the Mayors in DC or Seattle planning a parade. Likewise, Diamondbacks fans recently celebrated their second playoff appearance in nine years, yet that run of "success" would probably have baseball fans in New York heading for the nearest window.
Second, pain is universal. Ask any fan of any sport in any country in the world, and you'll get the same response: It hurts to lose way, WAY more than it feels good to win. It's why every sports nut has about three hundred dejected stories of defeat for every one tale of victory. And, it's why Boone spent his October just as heartbroken as I did, even though his team got an inch from playing for it all, while mine sat at home playing Wii.
Third, and most importantly, as sports fans we're never content. Some of us go decades w
ithout seeing our team reach the mountaintop. We're the majority, and every season, be it baseball, football, or women's lacrosse, is just another chapter in what seems like an endless (and sometimes hopeless) crusade.
Even those lucky enough to see a championship in their lifetime inevitably will spend the years that follow pining for another. And, of course, those who take home back-to-back championships can barely take a breath before starting to daydream about the ever-elusive "dynasty"; a status that only a three-peat can ensure.
Indeed, as fans we're always searching, always looking ahead. The road never really ends, and if it did, where exactly would we be? The fact is, we want it that way. Nay, we
need
it that way. Because in the end, it's the pain along the way that keeps us longing for the joy. Without the lows, there are no highs.
The reality then, is that what makes us fans has nothing to do with the destination. It's the search that defines us, and for that, we're all Journeymen.